Assembly Inoxsystem Infinity grated channel


(click image to open catalog page in pdf format)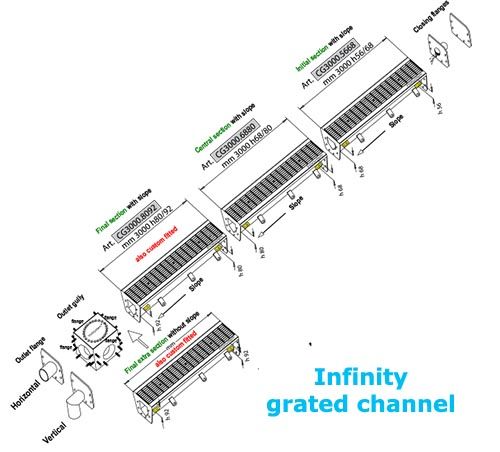 Section with slope
| | |
| --- | --- |
| ARTICLE | Description |
| CG3000.8092 | Final section with slope mm 3000 h80/92 (also custom fitted) |
| CG3000.6880 | Central section with slope mm 3000 h68/80 |
| CG3000.5668 | Initial section with slope mm 3000 h56/68 |
| | |
Section without slope
| | |
| --- | --- |
| ARTICLE | Description |
| CG500.9292 | Extra section without slope mm 500 h92/92 |
| CG1000.9292 | Extra section without slope mm 1000 h92/92 |
| CG1500.9292 | Extra section without slope mm 1500 h92/92 |
| CG2000.9292 | Extra section without slope mm 2000 h92/92 |
| CG2500.9292 | Extra section without slope mm 2500 h92/92 |
| CG3000.9292 | Extra section without slope mm 3000 h92/92 (also custom fitted) |
| | |
"Infinity" final extra sections
Without slope, h 92 constant, they can be added to the final section permitting different compositions to reach multiple lengths up to "infinity".
Note: They can be made with custom length.
* Data on this drawing are not to be considered binding.

* These drawings are property of INOXSYSTEM®.They cannot be used or copied without our formal permission.